Please check out this message from Pastor Nate.
As many of you are aware, our medical professionals are currently in a battle to save lives; many of them without the protective equipment and supplies necessary to allow them to do so without falling ill to the COVID 19 Coronavirus themselves. We have an opportunity, as a church, to assist several hospitals with this issue.

Through a collaborative effort with other church leaders, we have an opportunity to acquire and provide thirty thousand masks to those who need them the most. These masks would be divided across several hospitals that we know are already at the end of their supplies. You may have noticed an option in our online giving platforms entitled "Operations." This giving option allows for resources to be used immediately to support the expanded financial needs that have arisen in order to ensure that we are able to continue ministry efforts during and after this pandemic. To date we have been able to increase our capabilities to capture and stream our service content to each of you, gain services that allow us to have zoom sessions for various ministry related meetings, install hand sanitizing stations within the church lobby (in preparation for our return) and more through this option. We also have a benevolence option, which has the primary purpose of assisting others. Either one allows us to use these resources to assist in this need without adversely impacted our budget; which already feels the effects of the pandemic.

We currently have a goal of Bethany giving around $5,000.00 in support of this effort which has a cost of $42,000.00 total; being divided up among our ministry partners. While we are not in a position to cover the expense that this will take in its totality, we thank God for each church that we are partnering with, as well as each of you who may decide to give toward this effort; above what you already give to help maintain and continue Bethany Community Church's ministry endeavors. I personally have committed to giving toward this effort and pray that some of you may join me in meeting this need.

This is our opportunity to be the church, and we are accepting the call to make an impact in this time and place where we are needed the most.

May God bless you richly,

Pastor Nate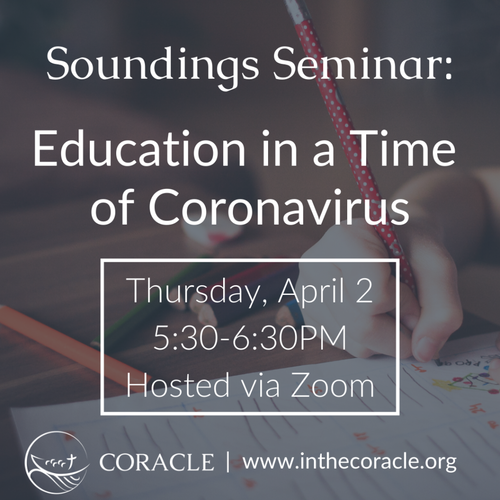 Join Erica Reiter and Laura Mastroianni, both educators and friends of Coracle, for a time of sharing and discussion about creative approaches to childhood education amidst school closures and all the other disruptions of this time.
Click here for info about joining this discussion.
Join the Youth for the RightNow Media study by Francis Chan called The Book of James every Wednesday, via zoom at 6:30. You can join in by clicking
here
.
Here is some helpful information on how you can participate in Zoom calls.
Start by making sure you have a good internet or cell signal, in a quiet place free from distractions.
Download the Zoom software at zoom.us/download. Please note you will not need to register for an account to join.
Go to zoom.us/test and check your internet connection, audio, and video. (If the audio isn't working, make sure your computer volume is turned up and your microphone is on.)
Close tabs and applications you won't need.
Turn your camera on (if needed).
Mute your mic (bottom left corner).
The weekly men's group welcomes you to join the meeting at 7:30 AM any Saturday as we study God's word and seek His will for us today. We are currently finishing a study titled "Christian: It's Not What You Think." For more information, contact Edd Beavers at
[email protected]
.
LARS is still essential to our community and will continue to remain open. If you are in need of food or interested in making a food donation, please call 301-776-0442.
The Seniors Small Group meets on alternate Tuesdays at 2:00 PM. Because of the current coronavirus crisis limitations, we have been meeting via SKYPE. SKYPE is free on almost all platforms, whether PC, Tablet, or Phone. We are currently studying the RightNow Media PSALM 23 by Matt Chandler. If you find yourself at home now and would like to join us, the next meeting is on April 7th at 2:00 PM. For more information, contact Edd Beavers at
[email protected]
if you would like to join us on Tuesday.
Fill out the form below to sign up for our announcement emails and receive more information about Bethany